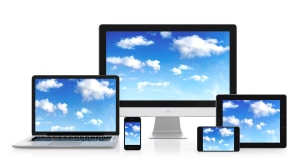 Is your website Responsive in Design?
I get asked on a regular basis by prospective clients, "Why does one website come up on an IPhone and look great, while others look choppy?" Or, "Is my site a responsive design?".
The answer is simple. The website that is viewable on a tablet or smartphone is usually a website built with a RESPONSIVE DESIGN, while one that does not "look correct", probably is not.
What does Responsive really mean? Basically, websites that are designed for today and tomorrow, take into consideration that a user will view a website from a variety of platforms. Those platforms could be a laptop, tablet, or smartphone. When considering a website design or redesign, 60% of users will access your website via a mobile device. Therefore, the percentage is growing. Upwards of 80% by the year 2017, is the number of users purchasing mobile friendly devices.
At Black Diamond Star Studios, every website we build is Responsive in nature, therefore keeping your business website accessible on any platform so your customers stay connected.
Do you have a new site or redesign project in mind? We can help. Contact us today.